Driving theory in different languages
KTP Driving theory course - A help on the way!

Helps you to succeed at the Swedish driving theory test! Practice Swedish driving theory online with the help of
theory, questions, and exercises. The course is customized
for the real assignment at The Swedish Transport Agency. The driving theory course contains more than 1000 questions,
and you can practise unlimited number of times during
the validity of your program. KTP driving theory program is available in 17 languages
and has been developed and revised together with driving
instructors since 2004.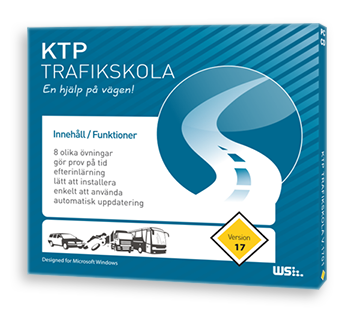 +1000 driving theory questions helps you pass the exam.
Exercises - Practise using eight different exercises and three final exams.
Vehicle safety check, learn everything you need to know about this mandatory routine.
Theory containing more than 250 chapters.
Automatic reviews let you see the correct answers after you perform any theory test.
Road sign test including all current road- and traffic signs.
Languages
KTP driving theory course is available for these languages:

Albanian
Arabic
Bosnian
Croatian
English
French
Georgian
German
Persian
Russian
Serbian
Slovak
Slovenian
Somali
Spanish
Thai
Turkish
Functions
Tests in the program are composed in the exact same way as the real test given by The Swedish Transport Administration. The program includes over 250 theory containing chapters to study. There is also a detailed description on how to perform a vehicle safety check.

Do unlimited number of tests and excercises during the education period. You are granted unlimited access to all driving theory questions, theory, excercises and final exams.

The course is only available for the online version.
Tests
Tests is composed from the query database in the program with help of an advanced random generator and from your previous results. Which means that every test becomes unique. After the test you can go throught all the questions and correct answers and to many of the questions there is a explanatory text.
Read more about the rules that applies at the driving theory test (Swedish) at the Transport Administration.
Excercises / Final exams
Except regular theory tests there is 3 final exams and 8 different kind of excercises (i.e traffic rules, treacherous situations and vehicle knowledge). Each excercise contains of 20 questions. When all exercises are approved the final exams can be started.
Driving licence classes
KTP driving theory course is adapted for class B (car). The official test is only translated to several languages for class B.
Miscellaneous
The online account can be used on a computer, tabler or a smartphone.
Price for the online driving theory course is from 149 SEK and can be used unlimited from 30 days to 3 months.

If you have any question about the driving test program you are welcome to contact us.